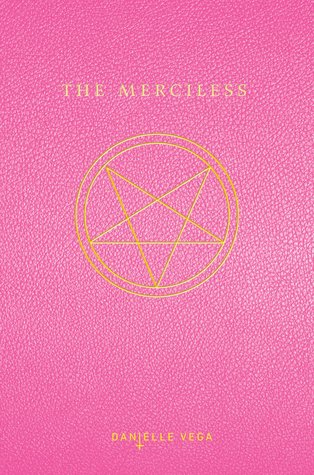 Published:
June 12th, 2014
Publisher:
Razorbill
Age Group:
Young Adult (Horror)
Pages:
279
Format:
Hardback
Rating:
♥♥♥
Forgive us, Father, for we have sinned
Brooklyn Stevens sits in a pool of her own blood, tied up and gagged. No one outside of these dank basement walls knows she's here. No one can hear her scream.
Sofia Flores knows she shouldn't have gotten involved. When she befriended Riley, Grace, and Alexis on her first day at school, she admired them, with their perfect hair and their good-girl ways. They said they wanted to save Brooklyn. They wanted to help her. Sofia didn't realize they believed Brooklyn was possessed.
Now, Riley and the girls are performing an exorcism on Brooklyn—but their idea of an exorcism is closer to torture than salvation. All Sofia wants is to get out of this house. But there is no way out. Sofia can't go against the other girls . . . unless she wants to be next.
Previously, I've never read anything in the horror genre, mostly because I'm not a person that usually actively seeks out things that might scare me, but after hearing some positive things about this, I decided to give it a go - and I am glad I did. This book was really graphic at times, and it definitely kept me on the edge of my seat while reading it.
The book reminded me a lot of Mean Girls for some reason, so I would say it's like Mean Girls and Satan had a baby and this is what became of it. It's twisted and very disturbing, and I thought that the horrific/gory scenes were done very well on the authors part. Not only were the truly gory scenes disturbing, but also just the whole feel of the book, it is truly just very creepy all over and you definitely feel uncomfortable reading it, so I wouldn't recommend it if you scare easily.
As for the characters in this book they were completely insane and delusional, some of the scenes in which Sofia is faced with each individual character are really disturbing, and I think those scenes were some of the worst, because while the gore was really gross, I thought it was worse to read about just how deranged some of these characters were.
But, although I did fly through this book and thought a lot of it was done well, it was at times predictable and the characters were not as developed as I would have liked, and that is why I have chosen to give it the rating that I did, because I liked it, I just didn't love it. However, it seems that this is going to be a series, and I can't wait to see what creepy continuation Danielle Vega has in store for us readers.
Overall a really interesting read, and it leaves me wanting to read more horror in the future.