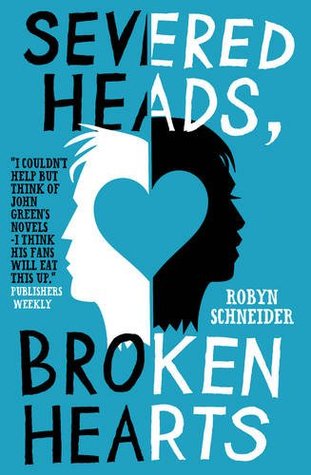 Published:
August 27th, 2013
Publisher:
Simon & Schuster UK
Age Group:
Young Adult
Pages:
335
Format:
Paperback
Rating:
♥♥♥♥♥
Golden boy Ezra Faulkner believes everyone has a tragedy waiting for them—a single encounter after which everything that really matters will happen. His particular tragedy waited until he was primed to lose it all: In one spectacular night, a reckless driver shatters Ezra's knee, his career as a jock, and his social life.
No longer a front-runner for homecoming king, Ezra finds himself at the table of misfits, where he encounters new girl Cassidy Thorpe. Cassidy is unlike anyone Ezra's ever met— achingly effortless, fiercely intelligent, and determined to bring Ezra along on her endless adventures.
Together, Ezra and Cassidy discover flash mobs, buried treasure, secret movie screenings, and a poodle that might just be the reincarnation of Jay Gatsby. But as Ezra dives into his new studies, new friendships, and new love, he learns that some people, like books, are easy to misread. And now he must consider: If one's singular tragedy has already hit and everything after it has mattered quite a bit, what happens when more misfortune strikes?
I adored this book, and I feel like I've been saying that about a lot of books lately, but it's true, I've just had a great time reading - reading books that are wonderful in their own way. So, first off I want to start with something as ordinary as the title simply because I think it is worth mentioning. As some of you may know the title of this book used to be
Severed Heads, Broken Hearts
, before it was reprinted to become
The Beginning of Everything
, personally I really like the original title and my copy of the book has the cover you see above. I like the original title because it is so spot on regarding the novel itself and I really enjoyed realizing that throughout the novel (but I also see why it was changed, because the new title fits as well).
I really enjoyed the novel as a whole, I liked all the little things that happened and the scenes at school where there was just a lot of banter and jokes - it was great. I liked the way that the romance was built up and how it didn't feel to sudden. I also loved all the references to both Harry Potter and The Great Gatsby - there were quite a few, but I loved it.
The characters in this novel are great. I loved Ezra, and how he developed as a character throughout the novel. I enjoyed his voice as the narrator and I liked the fact that he was the narrator because, I feel that I don't read enough books where there is a male narrator. As for his love-interest Cassidy, I liked her, but at times I became annoyed with her, but it was understandable annoyance and it was resolved at the end of the novel. The supporting characters in this novel were also great, I loved Toby so much, he is just so amazing and witty and overall great. Toby and Ezra are the two characters that I absolutely fell in love with in this novel, I love their friendship because I could relate to how nerdy they were, and it was just great. I also liked Phoebe, she was just a sweetheart, and there is this one scene where she is just amazing (badass, in my book).
As for the writing style, I really enjoyed it, but like with John Green some people might not like it, but I loved it. I don't think it's exactly like John Greens writing style, I just think that both Robin and John write the way that they speak, and I connot express how much I love that. The language is not that hard to read for those of you that are (like me) not form a english-speaking country.
Overall I just really enjoyed this book, I liked the characters, the plot, the writing. It was just great and I think that a lot of people might really enjoy it as well, so go read it!
"Sometimes I think that everyone has a tragedy waiting for them, that the people buying milk in their pajamas or picking their noses at stoplights could be only moments away from disaster. That everyone's life, no matter how unremarkable, has a moment when it will become extraordinary - a single encounter after which everything that really matters will happen."
"I wondered what things what things became when you no longer needed them, and I wondered what the future would hold once we'd gotten past our personal tragedies and proven them ultimately survivable."
"There's a word for it," she told me, "in French, for when you have a lingering impression of something having passed by. Sillage. I always think of it when a firework explodes and lights up the smoke from the ones before it."
"That's a terrible word," I teased. "It's like an excuse for holding onto the past."
"Well, I think it's beautiful. A word for remembering small moments destined to be lost."
"She tasted like buried treasure and swing sets and coffee. She tasted the way fireworks felt, like something you could get close to but never really have just for yourself."